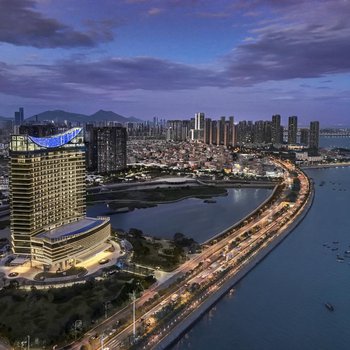 District. The hotel enjoys a dual lake and sea backdrop that's a beautiful sight to behold. Inside you'll find serenity, while outside you'll experience the bold prosperity of Jimei.
It is convenient to reach Xiamen Gaoqi International Airport, Xiamen North Railway Station and Xiamen Railway Station. We are also additionally nearby to Jimei Shimao Plaza, Wankeli Shopping Mall and Jimei Wanda Plaza. What's more, you can easily visit popular tourist spots such as Xiamen Horticulture Expo Garden, Jimei School Village and Xinglin Bay Bicycle Marine Lane.
The hotel offers 303 rooms and suites, all boasting the Crowne Plaza WorkLife room design and featuring beautiful sea or lake views. WorkLife rooms cater to the needs of the modern business traveler. This includes a cleverly designed work-rest area with multi-function sofa nook, allowing you to move seamlessly between work, meeting and leisure modes.
We boast 3,000 square meters of meeting space that includes 10 multifunctional meeting rooms. Among these is our 1,600-square-meter,9.0-meter ceiling grand ballroom that can easily accommodate 800 people (in banquet seating). The flexible space, complete with state-of-the-art audiovisual equipment, is designed to meet the needs of various scale conference activities, business gatherings and romantic wedding banquets.
The hotel further features both a Chinese and Western-style restaurant with serving excellent cuisine at JOY All Day Dining, Lobby Lounge, Chao Feng Xuan Chinese Restaurant, and ROOF 22 Restaurant & Bar. For those aiming to keep fit and rejuvenated during your stay, we have a full gym, swimming pool and soothing spa to round out your hotel experience.